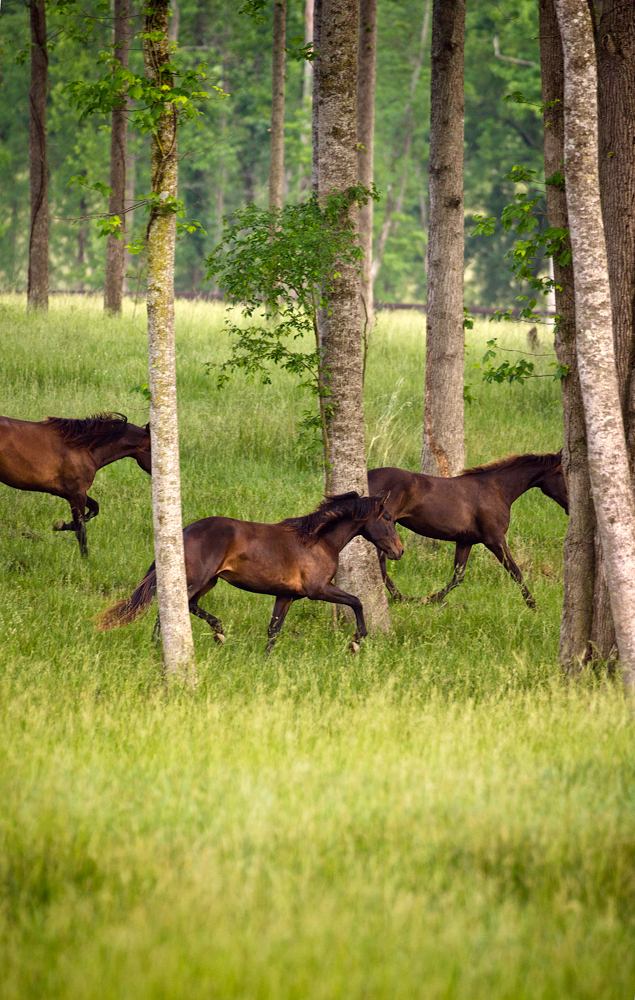 ot too long ago, Don E Mor was one of the largest Lusitano breeding farms in North America. Don E Mor usually had about forty to fifty pure Lusitanos and a limited number of Lusitano/Andalusian crosses available for purchase. In 2014 we stopped breeding for the specific purpose of taking our time to finding homes for the Lusitanos we had left, their forever riding partners! Being the reason these beauties are here, we feel a great responsibility to match our horses with the right people. We pray daily for those people to come and find their Lusitanos.

Don E Mor employs one trainer, one to two riders, and several part time farm workers. We begin schooling these athletic animals at about three to four years of age. Some are taller than others due to imbalances in their body while maturing thus, their training works on their maturity schedule, not ours. As they are being trained in dressage we also introduce them to jumps, Working Equitation, and trail riding. We have found the Lusitano to be able to do just about anything.



The ancestors of the Lusitano were originally used for warfare, classical dressage, driving a carriage and bullfighting. They also tend to become very attached to their person! Our breeding program was designed to provide horses who love people and that respond to their rider with sensitivity, softness and an elegance that displays a harmony between them.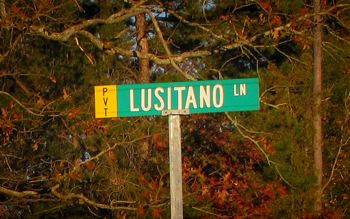 We bred our horses with qualities of lightness, relaxation, suppleness, self-carriage and balance to celebrate the Art of Classical Horsemanship. Don E Mor's Lusitanos are indeed very special. We have deliberately selected the best of European and Latin American Lusitano breeding stock to deliver to our clients "made in America" Lusitanos that cannot be replicated from any other source. Here all you have to do is ask and you will be told anything you'd like to know about any of our horses from conception to the present.

Our breeding program was developed by carefully selecting high quality Portuguese/ Brazilian mares and stallions with the most desirable characteristics. We bred our horses to have necks that are thick and arched, leading to well defined withers, shoulders that are muscular and sloping, and a deep, broad chest. Our breeding program builds horses that have great temperaments, strong backs with rounded sloped croups with a low-set tail. These horses are beautifully athletic and very willing to work for their person.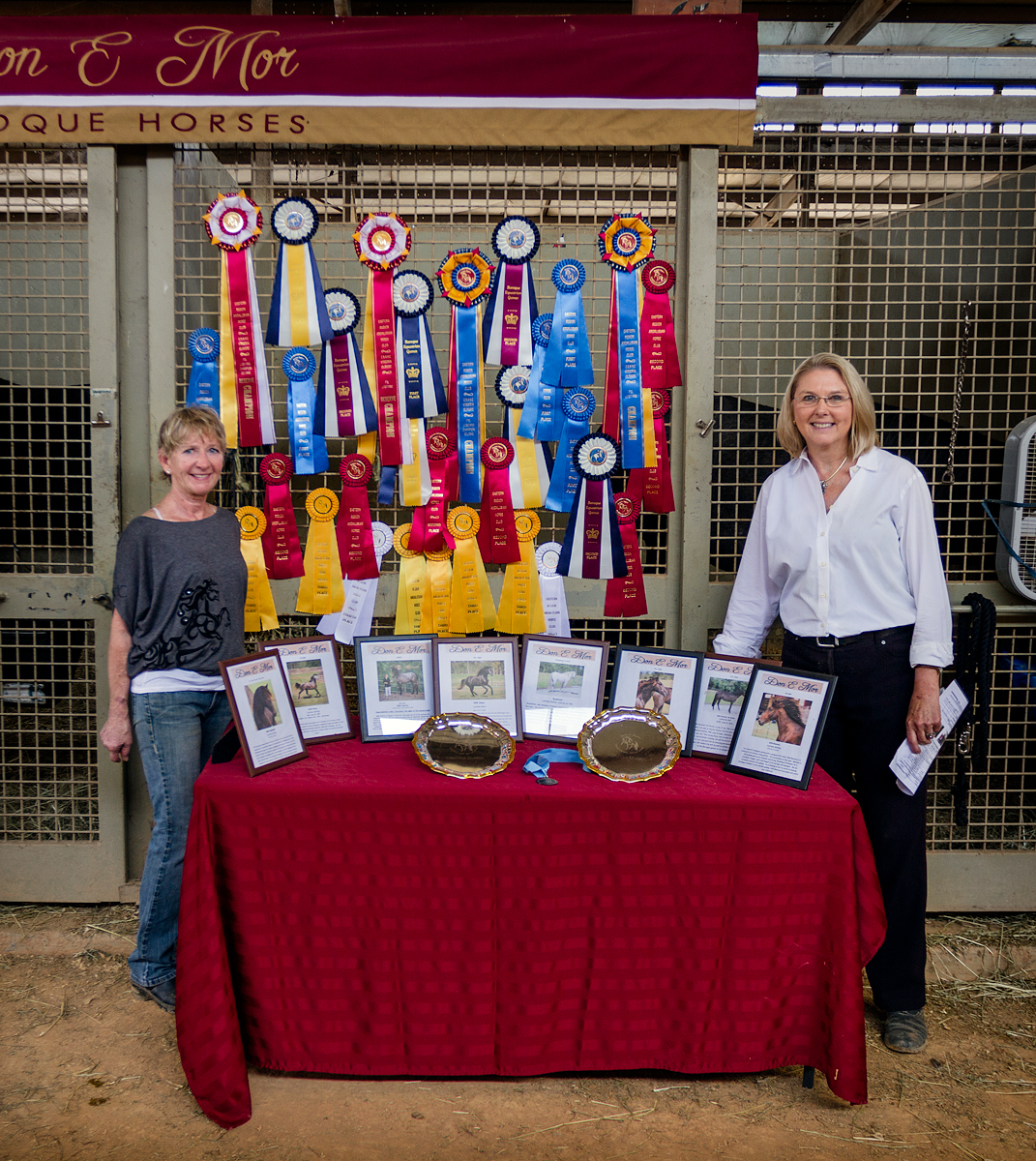 In our training program we are never in a rush, taking our time to allow our Lusitanos to mature physically, to build appropriate muscle for their next level of learning. This system takes into account the maturity level of the Lusitano as well. Sometimes they tell us early that they are ready for a job and other...well they need some more time out in the field.

The Lusitano generally matures at 8 to 9 years of age. Like a fine wine which is given the best opportunities to mature to perfection, our Lusitanos, because of our philosophy on training, are more eager to learn, less prone to physical injury, and have had the most positive training possible.

Give us a look and perhaps you will find your dream Lusitano!



Our Sold Horses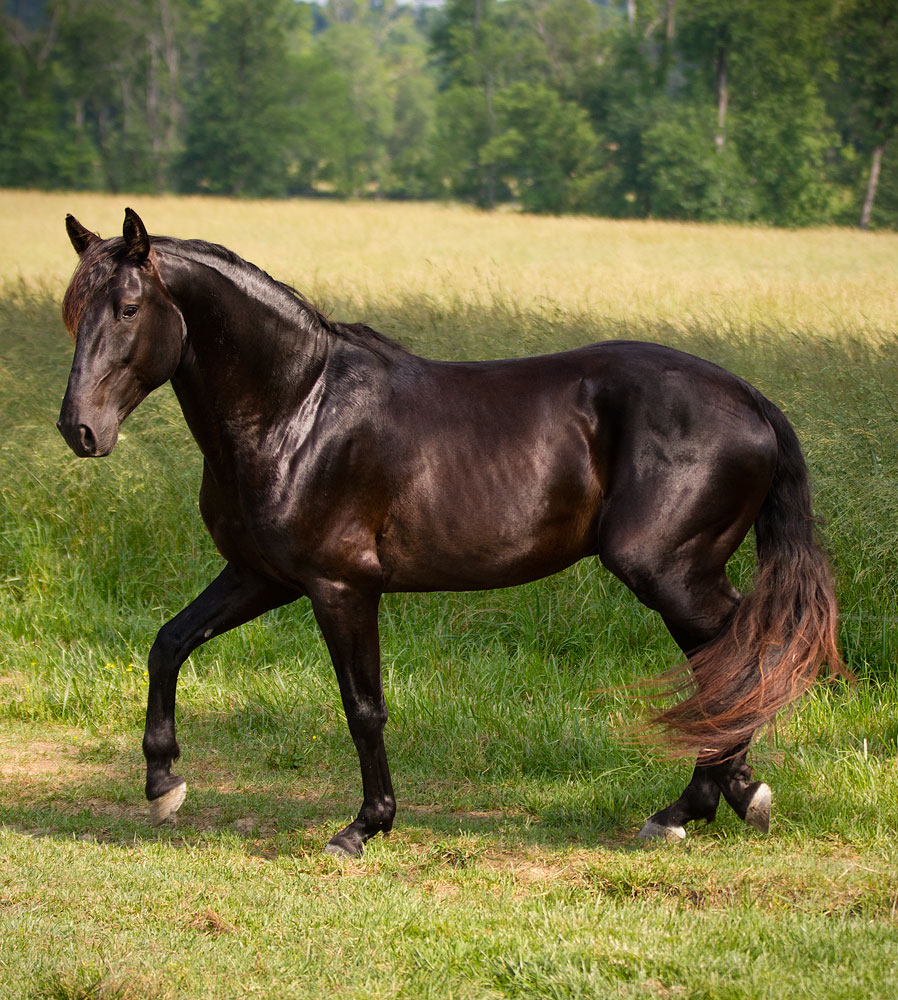 As the years have unfolded, Don E Mor has been blessed with many amazing Lusitano and Andalusian horses. All of the gorgeous steeds we have sold have gone to exactly the right people their Forever Riding Partners. Don E Mor horses are now spread as far west as California, as far north as Canada, and as far south as Texas, while many have stayed right here in North Carolina. Have a look at some of these magnificent animals for yourself!










Kathy Daly, Dressage Trainer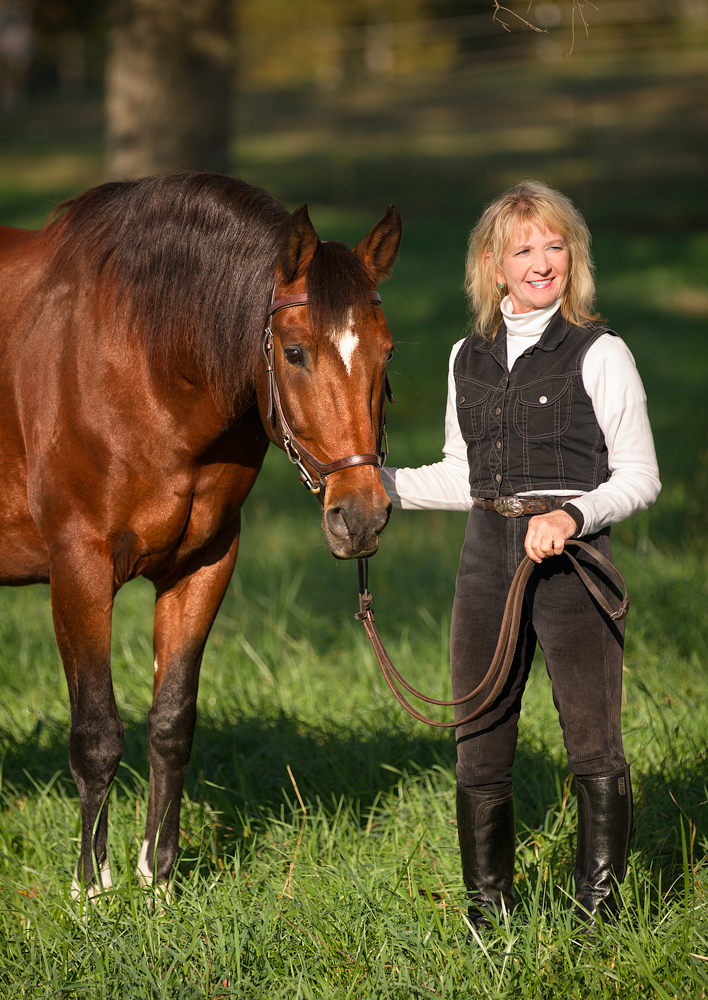 Don E Mor is very excited to introduce Kathy Daly, of KD Equine, as our Classical Dressage trainer. Kathy has extensive training in Classical Dressage, hunter/jumpers and eventing, as well as experience with Lusitanos. She has earned an "r" rating as a USEF Dressage judge, and has been awarded both a USDF Silver and a Bronze Medal.

Ms. Daly's expertise and ability in evaluating the dressage potential of our Lusitanos began during the early years of her training. She was mentored by the late Dorita Konyot, who was one of the greatest horsewomen in the world, and whose family is steeped in equestrianism. This is no more apparent than in Tina Konyot, the 2012 Equestrian team's member, and niece of Dorita. After this fantastic start, Kathy went on to learn all she could about riding and other aspects of horsemanship in order to be able to teach others how to have the best riding partner!

Now, 40 years later, she has come to give Don E Mor and our clients the very best instruction and training in Classical Dressage and horsemanship.

Kathy's training program here at Don E Mor begins with determining which way a horse is telling her it wants to go! We look for the horse's venue and then we set about helping our equine friends become the best they can be! That venue could be dressage, hunter/jumper, western pleasure, working equitation, carriage work and all our horses are put out on the trails here for hacks across the beautiful rolling fields and crossing flowing streams.

She is available for private lessons, horse training, and judging in the Triangle, Southern Pines, Pinehurst, and the Triad areas. She can be contacted through the her website, KDEquine.com, or call us at Don E Mor and we'll arrange a meeting.



Our Thoughts on Socialization Training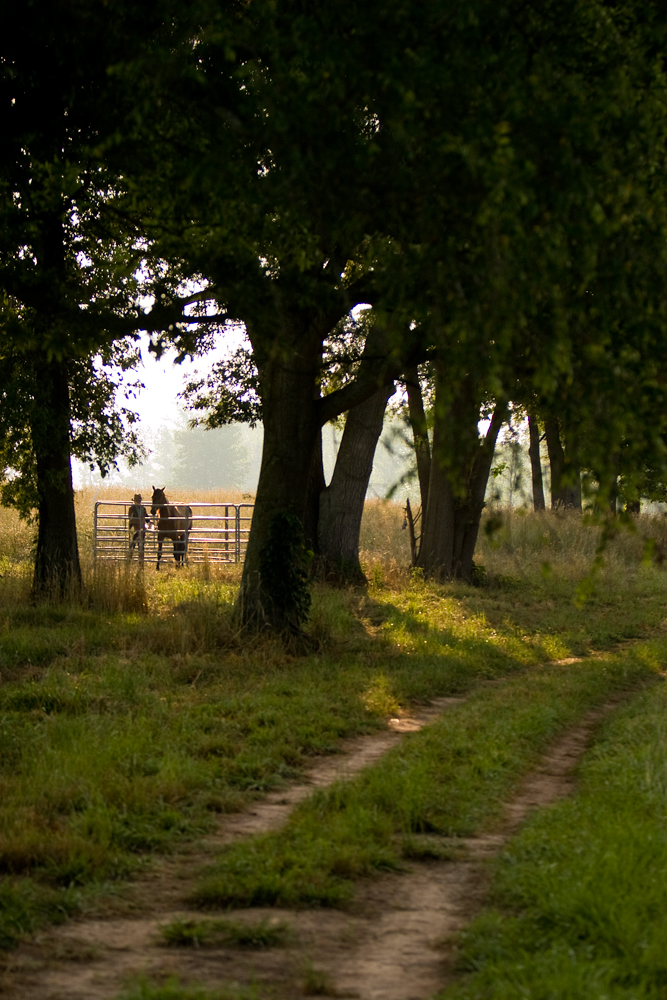 Don E Mor's head trainer, Kathy Daly, now leads our team of dressage trainers, grooms and handlers in laying the foundational training for our horses, beginning with our foals. This team has a combination of nearly a 100 years of equine education and training experience. Therefore, they play a key role in the character development of our Lusitanos.

Because of their intelligence and willingness to please, the foundational training for this breed is critical. Respect, fairness and learning partnership start at birth. From this foundation our horses can go on to excel in classical dressage, eventing, hunter-jumper, carriage, western pleasure, and any other discipline you desire to try.

From the day they are born, our team is handling young colts and fillies, patiently teaching each Lusitano the basics of leading, loading, foot care and manners. We feel it is this early training that is key in establishing that human/equine bond that is so strong in the Lusitano breed.

Each year Don E Mor's foals receive this customized handling wrapped in layers of love and respect. Thus the slogan, born, bred and trained in America. On our farm we know how, when, where and why our horses have been handled and ultimately trained under saddle.

Don E Mor has had the great privilege to provide our clients with exceptional Lusitanos. At the moment our DEM Valiente has started his dressage career gaining high scores that have lead to his nomination for the dressage regionals in his area! Another of our Lusitanos, DEM Latte, went to the IALHA National Show-2013 and came home with the National Reserve Working Equitation Championship for Level 2! And these two did it the first time they went out to try!

Even though we believe our Lusitanos are some of the best in the world, it is very humbling to realize the potential we have been given in the horses that we breed. As our horses continue to grow and find their own riding partner, we are delightfully reminded of why we are in this business. It's all about the horse!