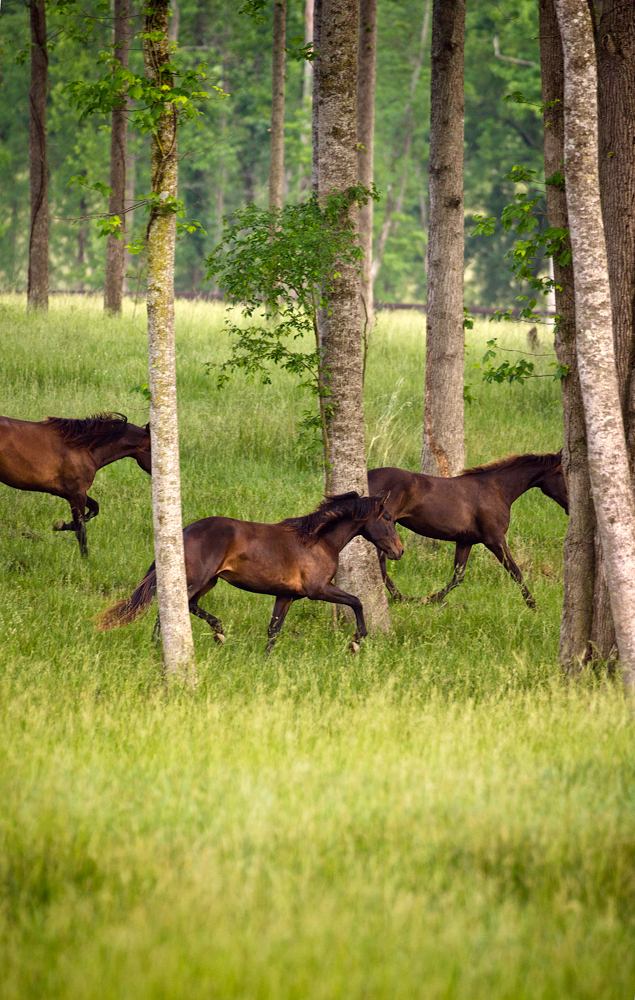 s one of the largest Lusitano breeding farms in North America, Don E Mor normally has about forty pure Lusitanos and a limited number of Lusitano/Andalusian crosses available for purchase. This includes trained and untrained mounts, some of which are proven breeding stock. Don E Mor employs three trainers on the farm who begin schooling these athletic animals at about three years old to disciplines that best fit their temperament and abilities. Other staff members are socializing our younger colts and fillies from the day they are born. Only a few of the younger colts and fillies are shown as examples on this web page as they all rapidly socialize, learn and grow. A limited number of these younger animals are available for purchase prior to formal training.

We do not rush into training our Lusitanos, but allow them time to develop physically and mentally. Like a fine wine which is given the best opportunities to mature to perfection, our Lusitanos are not rushed into training and thus are more eager to learn, less prone to physical injury , and have had the most positive training possible. Just ask our clients.



Extremely athletic, Lusitanos compete in every area of equestrian competition; dressage, eventing, hunter/ jumper, western events, reining, carriage driving and are still in the bull ring in Portugal fighting the bulls. The experts in equestrian sports call them versatile, docile, agile and courageous. We take our time with each animal to determine their interests and passion. With nearly 80 years of combined training experience, our trainers can reliably determine the areas where this very athletic breed will be most successful. All of our Lusitanos at Don E Mor spend some time with instruction in classical dressage. Those that are stand-outs will receive special attention from Kathy Daly which may include competitive showing.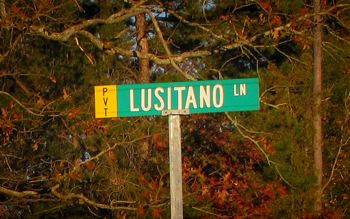 Our breeding program was developed by carefully selecting high quality Portuguese/ Brazilian mares and stallions with characteristics the Lusitano breed is known for. We maintain and are continuing to refine some of the best breeding lines in America. We breed our horses to have necks that are thick and arched, leading to well defined withers, shoulders that are muscular and sloping and a deep, broad chest. Our breeding program builds horses that have strong backs and rounded, sloped croups, leading to a low-set tail. We breed for animals with legs that are sturdy and muscled and a mane and tail are extremely thick. Our Lusitanos are powerful and athletic horses, hand-picked for their intelligence and willingness to please.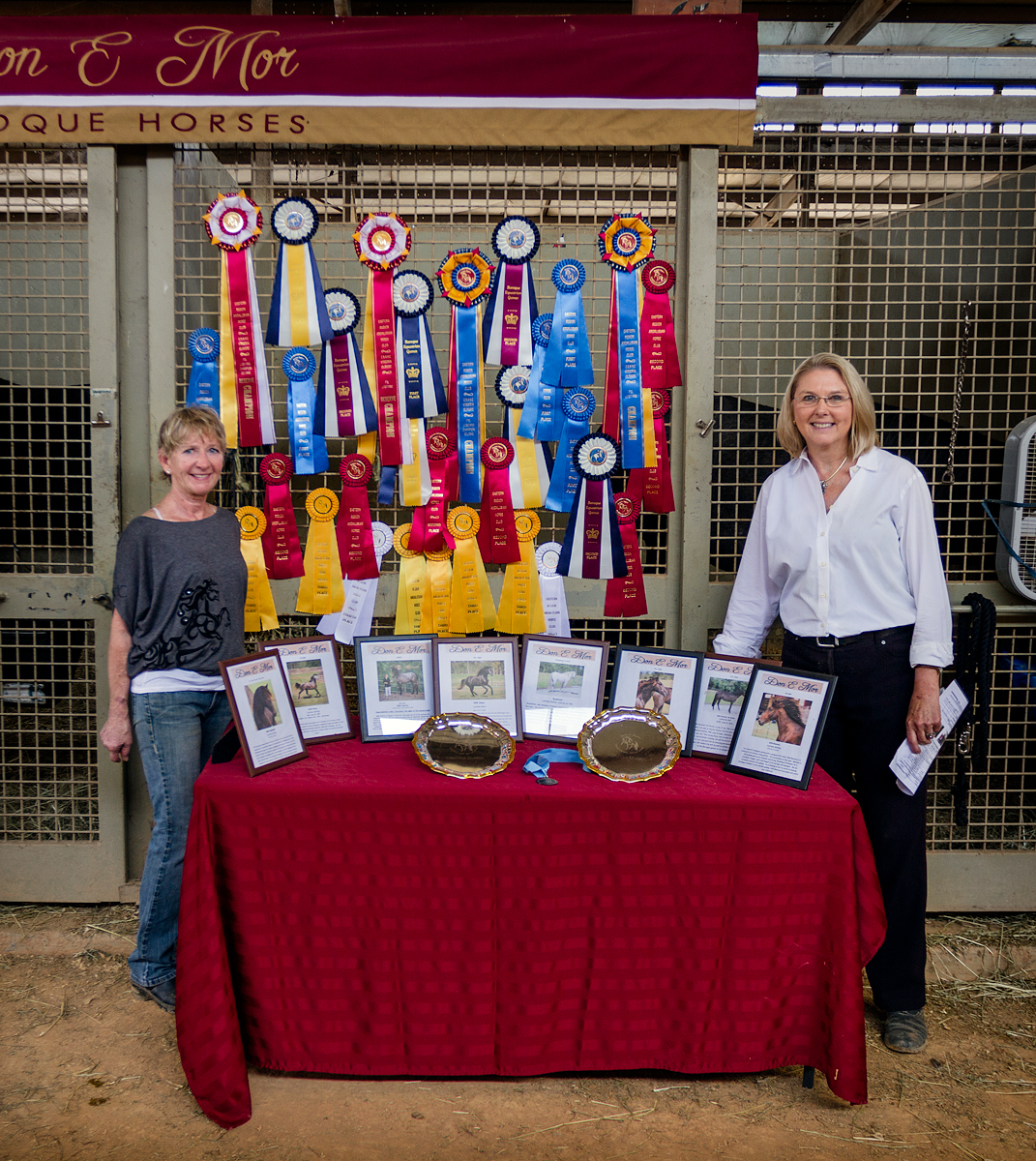 The ancestors of the Lusitano were originally used for warfare, classical dressage, driving and bullfighting. Our breeding program is designed to provide horses that respond to the rider with sensitivity, softness and elegance that display a harmony between the horse and rider. We breed our horses with qualities of lightness, relaxation, suppleness, self-carriage and balance to celebrate the Art of Classical Horsemanship.

Don E Mor's Lusitanos are indeed very special. We are deliberately selecting the best of European and Latin American Lusitano breeding stock to deliver to our clients "made in America" Lusitanos that cannot be replicated from any other source. We invite you to see our collection of fine Lusitanos and pick your equine life partner. Then, we invite you to dance with your Lusitano. Learn more about the Baroque Games at their website, baroquegames.net.




Our Sold Horses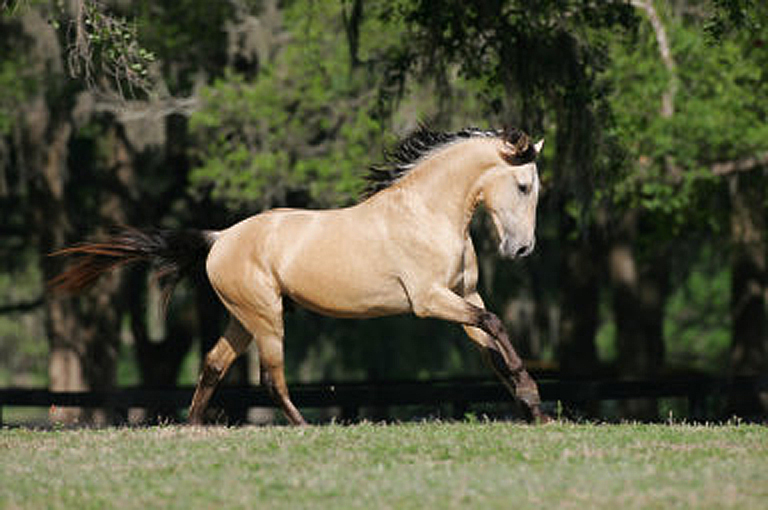 As the years have unfolded, Don E Mor has been blessed with many amazing Lusitano and Andalusian horses. All of the gorgeous steeds we have sold have gone to exactly the right people their Forever Riding Partners. Don E Mor horses are now spread as far west as California, as far north as Canada, and as far south as Texas, while many have stayed right here in North Carolina. Have a look at some of these magnificent animals for yourself!








Kathy Daly, Dressage Trainer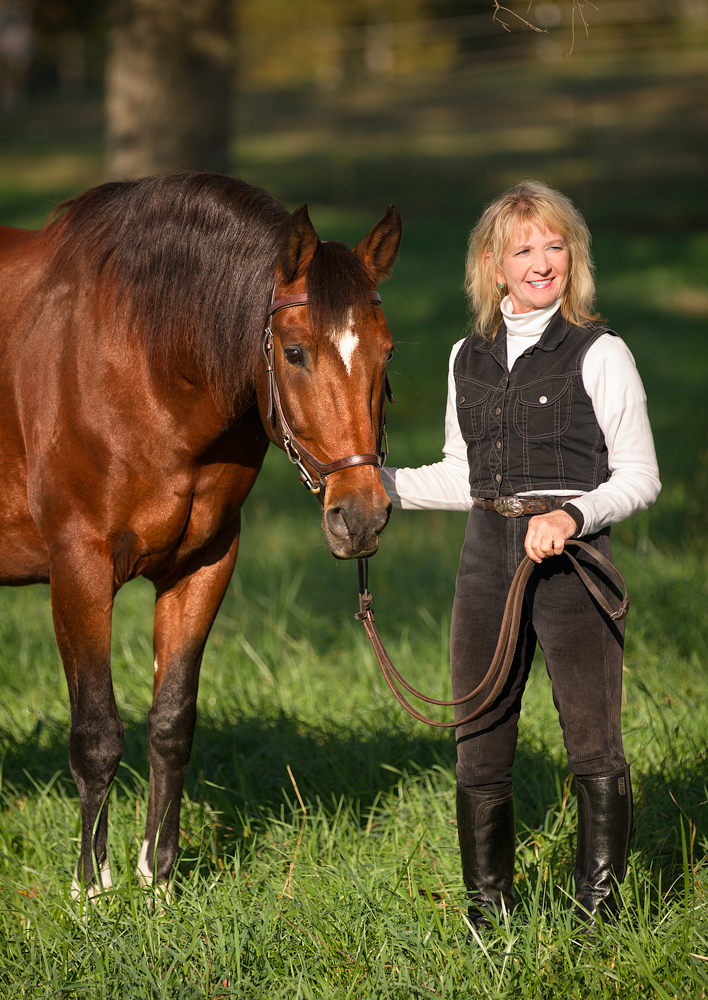 Don E Mor is very excited to introduce Kathy Daly, of KD Equine, as our Classical Dressage trainer. Kathy has extensive training in Classical Dressage, hunter/jumpers and eventing, as well as experience with Lusitanos. She has earned an "r" rating as a USEF Dressage judge, and has been awarded both a USDF Silver and a Bronze Medal.

Ms. Daly's expertise and ability in evaluating the dressage potential of our Lusitanos began during the early years of her training. She was mentored by the late Dorita Konyot, who was one of the greatest horsewomen in the world, and whose family is steeped in equestrianism. This is no more apparent than in Tina Konyot, the 2012 Equestrian team's member, and niece of Dorita. After this fantastic start, Kathy went on to learn all she could about riding and other aspects of horsemanship in order to be able to teach others how to have the best riding partner!

Now, 40 years later, she has come to give Don E Mor and our clients the very best instruction and training in Classical Dressage and horsemanship.

Kathy's training program here at Don E Mor begins with determining which way a horse is telling her it wants to go! We look for the horse's venue and then we set about helping our equine friends become the best they can be! That venue could be dressage, hunter/jumper, western pleasure, working equitation, carriage work and all our horses are put out on the trails here for hacks across the beautiful rolling fields and crossing flowing streams.

She is available for private lessons, horse training, and judging in the Triangle, Southern Pines, Pinehurst, and the Triad areas. She can be contacted through the her website, KDEquine.com, or call us at Don E Mor and we'll arrange a meeting.



Sandra Dutine, Dressage Trainer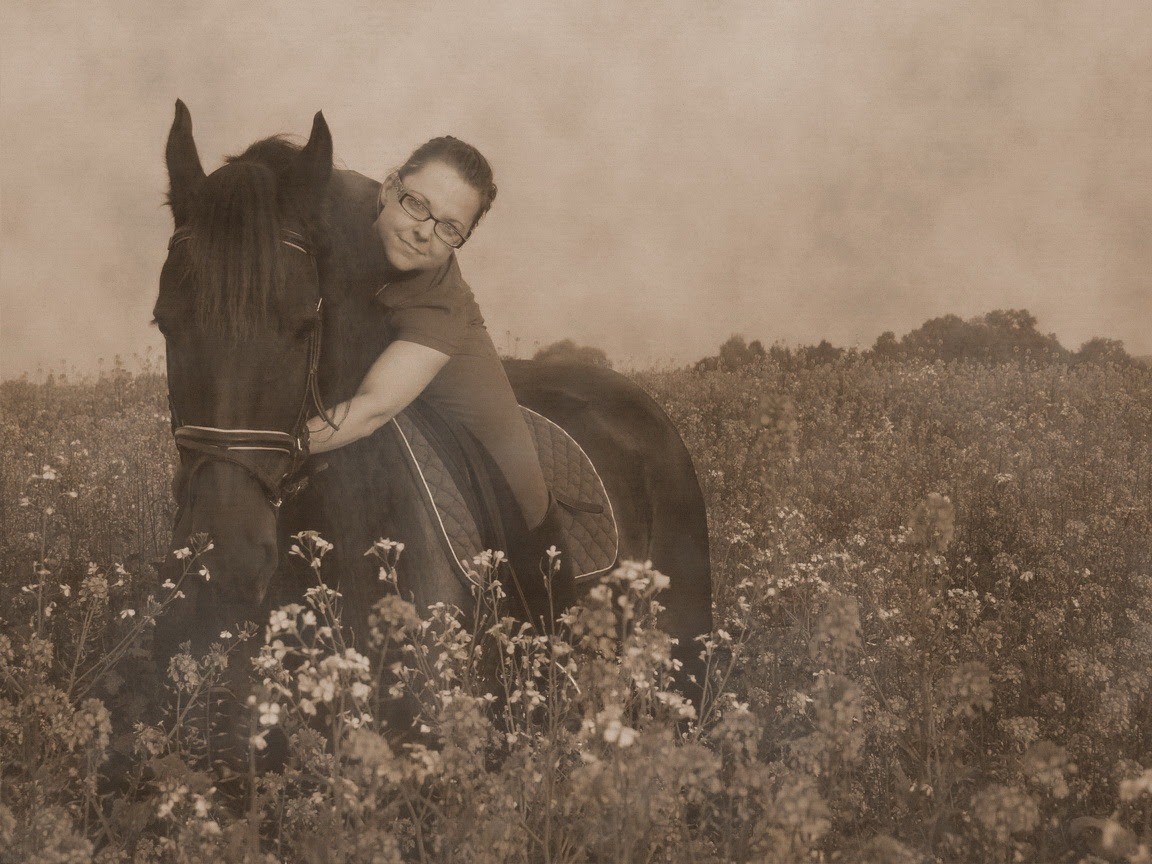 Don E Mor is pleased to announce the addition of Sandra Dutine as our second dressage trainer. We first met Sandra when she came to us as a client almost a year ago. We were very impressed with how she related to the horses and her riding skills. As the year passed, our paths crossed again and now we are so pleased that she is working with our horses.

During her riding career she has had the chance to work with great horses, trainers, and mentors. With their support and extensive training she became a successful certified Trainer C (Level 1) for the Classical Baroque Dressage. (Details of this training can be found on the website of the Federation of Classical Baroque Dressage in Germany). Her path has been marked by various teachers such as Rebecca Hopp, Rolf Janzen, John Beck Broichsitter, Richard Hinrichs, Ruth Giffels, Claudia Weiser and she worked in Germany with the local riding instructor, Angelika Weck.

Add to that this list of qualifications:
Certified Therapeutic Riding Instructor(PATHI).
Certified Trainer C for classic baroque dressage by the German Equestrian Federation (Level 1).
German Riding Badge (DRA III) bronze level (dressage specific), higher requirements are more stringent. A bronze level award requires successfully completing the equivalent of a Second Level Test.
German Riding Badge (DRA IV) copper level; level IV, is awarded to beginner riders and is used primarily as a motivational tool to Encourage a continued interest in horses. (Equivalent to training level).
German certificate "work on the lunge"(DLA IV).
German certificate "Trail-Riding".


Upon moving to the U.S., she attended Centenary College in Hackettstown, NJ, for Equine Studies where she became a certified Therapeutic Riding Instructor through PATH International. There she learned that classical principles make it possible to work with horses without physical or mental restraint and to reach the ultimate harmony in communication with the horse. "Our goal should always be the health of our horse's back and working with our horse on a voluntary basis and positive motivation instead of pressure." For Sandra, dressage is not just a sport; it is a way of thinking, a positive feeling, a way of life. You can find out more about Sandra and her techniques and horsemanship philosophy at Her Website.

When Sandra came to the farm this year and met Kathy Daly there was an instant recognitions of shared values and skills. Sandra is thrilled to be an integral part of our training program and working alongside Kathy. It is the foundational experience from Kathy, Sandra and our team that allows our Lusitanos to become the type of riding partner that exceeds your expectations!

Our Thoughts on Socialization Training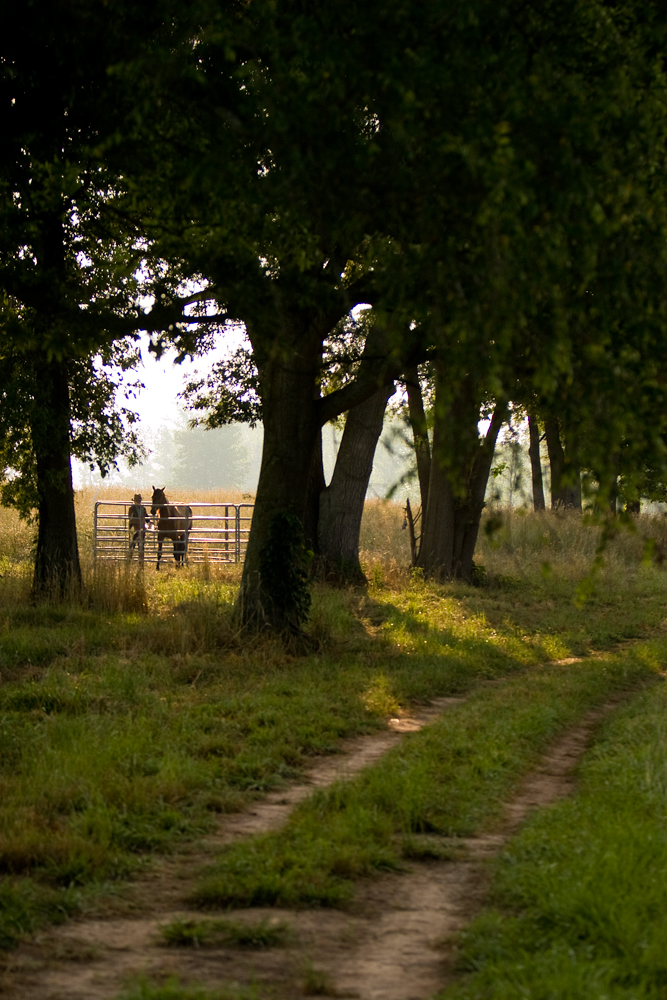 Don E Mor's head trainer, Kathy Daly, now leads our team of dressage trainers, grooms and handlers in laying the foundational training for our horses, beginning with our foals. This team has a combination of nearly a 100 years of equine education and training experience. Therefore, they play a key role in the character development of our Lusitanos.

Because of their intelligence and willingness to please, the foundational training for this breed is critical. Respect, fairness and learning partnership start at birth. From this foundation our horses can go on to excel in classical dressage, eventing, hunter-jumper, carriage, western pleasure, and any other discipline you desire to try.

From the day they are born, our team is handling young colts and fillies, patiently teaching each Lusitano the basics of leading, loading, foot care and manners. We feel it is this early training that is key in establishing that human/equine bond that is so strong in the Lusitano breed.

Each year Don E Mor's foals receive this customized handling wrapped in layers of love and respect. Thus the slogan, born, bred and trained in America. On our farm we know how, when, where and why our horses have been handled and ultimately trained under saddle.

Don E Mor has had the great privilege to provide our clients with exceptional Lusitanos. At the moment our DEM Valiente has started his dressage career gaining high scores that have lead to his nomination for the dressage regionals in his area! Another of our Lusitanos, DEM Latte, went to the IALHA National Show-2013 and came home with the National Reserve Working Equitation Championship for Level 2! And these two did it the first time they went out to try!

Even though we believe our Lusitanos are some of the best in the world, it is very humbling to realize the potential we have been given in the horses that we breed. As our horses continue to grow and find their own riding partner, we are delightfully reminded of why we are in this business. It's all about the horse!